Rhoda Walker
Chair
Rhoda came to volunteer with the Northern Ireland Rare Disease Partnership nearly two years ago, four years after her son Robbie was diagnosed with Ehlers Danlos Syndrome. So little support was provided to them following diagnosis and so their journey to be more knowledgeable about the condition was quite a frustrating one. Her passion for the Partnership's vision that "no one is disadvantaged because of the rarity of their condition" stems from seeing first-hand the day to day difficulties that her son faces. Whilst his condition is rare, his struggles are not! As every patient with a rare condition has detailed, they all face the same problems within the existing medical and benefit systems, systems that have limited mechanisms to handle complex issues.
Rhoda has over twenty years' experience in community development and has been working as a freelance community development facilitator since 2016, with volunteering experience across a range of organisations.
Whilst with the Partnership she would like to help identify ways to improve user involvement in every aspect of programming which supports their lives from research and development, design and production through to delivery. By improving sharing information and effective communication we can support the professionals to simply the issues that affect the lives of those living with a rare condition.
She is keen to continue the good work of the partnership in developing collaborative working to ensure that all available resources are best used to meet the community's needs.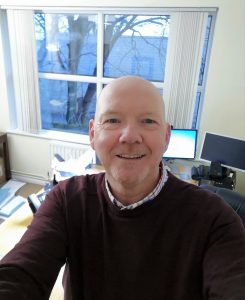 James Caldwell
Treasurer
I am the treasurer of NIRDP – responsible for finance and company secretarial matters.  While NIRDP is an umbrella group for all rare diseases, my particular interest is rare cancers.  I am a rare cancer patient, diagnosed in 2014 with cancer of the appendix.  In 2014 I had major surgery and systemic chemotherapy.I am also a member of the European Cancer Patient Coalition (ECPC) working group on rare cancers and have attended a number of patient advocacy events throughout Europe.  I am a patient advocate to EURACAN, the ERN on Rare Adult Solid Cancers.
I am quite active on a number of social media groups that provide advice and support for appendix cancer patients and those with PMP (Pseudomyxoma Peritonei).
By profession, I am a Chartered Accountant and Registered Nurse.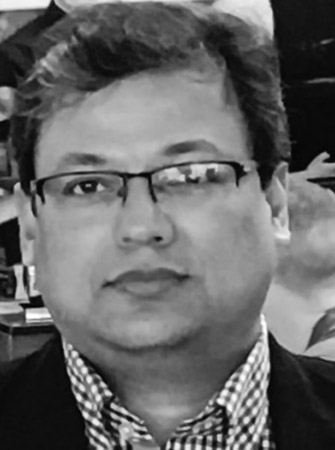 Dr. Tabib A Dabir, MD, DCH, MRCPCH
Director
Dr Dabir has been a Consultant in Clinical genetics since 2007 and Clinical lead for Northern Ireland Regional Genetic Centre since 2016.
He has recently been appointed as Clinical Director for Molecular Diagnostics and Microbiology.
Dr Dabir has extensive clinical and academic experience of working as Paediatrician and Clinical geneticist in India, Saudi Arabia, Dubai and UK. He was instrumental in setting up regional clinics for Von Hippel- Lindau (VHL) Syndrome and 22q 11.2 deletion syndrome patients at Belfast City Hospital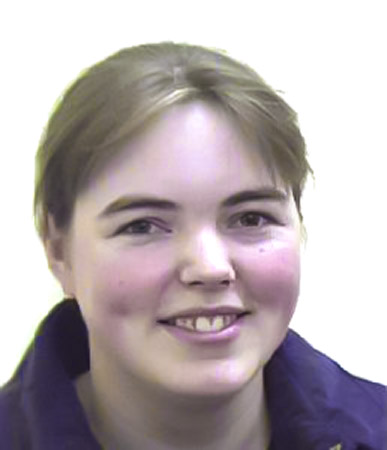 Dr. Amy Jane McKnight
Director
AJ has a keen interest improving the lives of those living with rare diseases, in particular improving diagnosis, communication, and care pathways.
She is a Reader at the Centre for Public Health, QUB with inherited disease research laboratories embedded within NI's Regional Genetics Centre. AJ participates on the board of directors for the NI Rare Disease Partnership, helped develop the NI rare disease implementation plan, is part of the Northern Ireland Rare Disease Stakeholder Group, and is rare disease research lead for the recently funded NI Genomic Medicine Centre.
AJ's research team primarily use state-of-the-art tools to identify genomic risk factors for human diseases, plus investigate how each person's genes interact with their environment.
Whole genome sequencing of >1,000 individuals for rare diseases is underway as part of the NI Genomic Medicine Centre, with complementary 'multi-omic' analyses helping to improve the speed and accuracy of diagnosis for local individuals with rare diseases. Moving beyond standard genetic tests provides extra information that increases the opportunity for us to discover the cause of an individual's disease, alongside learning more about the underlying biology and treatment options for each disease.  We hold several registries and are actively engaged in making maximal use of complex genomic information.
Gillian Cassidy
Director
Gillian Cassidy BTh is a director of NIRDP, Chairperson of 22q11 Northern Ireland, and works in the City Hospital 22q Transition Clinic as Patient Advocate Coordinator. She also runs a Facebook page and a support group for 22q. Gillian is a mum of 4 young children — her eldest daughter Lucia lives with 22q11.2 deletion Syndrome. She also lives with a neurological condition and a chronic skin disease. Gillian is an advocate for rare diseases, believes that knowledge empowers and people are stronger together!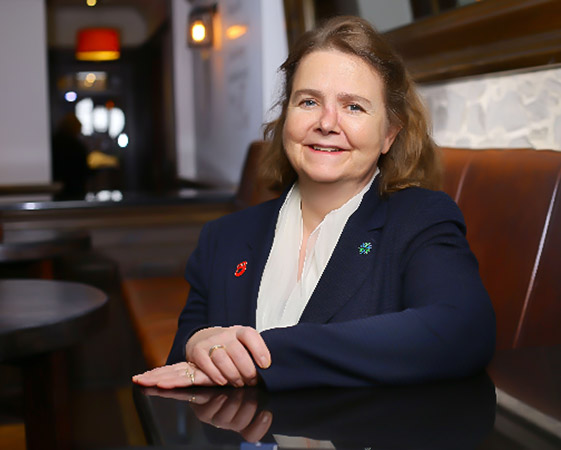 Julie Power
Secretary
Prior to diagnosis in 2005 with a rare disease called Granulomatosis with Polyangiitis Vasculitis, Julie worked for 17 years as an Occupational Therapist, specialising in Neurology and Palliative care. Following diagnosis, her life and that of her family's was totally changed. The uncertainty and isolation Julie experienced on her patient journey has fuelled her interest in raising awareness, improving care and research. Julie believes knowledge is power and that patient involvement throughout the entire treatment and research process is mutually beneficial to the Researchers, Clinicians, Service Providers and Patients.
2010, she founded Vasculitis Ireland Awareness, an All-Ireland support group for anyone affected by Vasculitis in Ireland, liaising closely with Vasculitis UK and the Vasculitis Foundation. Julie is a patient representative in the Irish Rare Kidney Disease Registry and Bio bank Steering Committee, the recently formed Vasculitis Ireland Network (VINE) and in planning for a pilot NI Vasculitis service. She graduated as a EUPATI (European Patient Academy in Therapeutic Intervention) fellow in 2016 after completing the 14month intensive research and development course. Julie has been a member of the Northern Ireland Rare Disease Partnership (NIRDP) board of directors since 2015. This year, she was invited onto the Irish Platform for Patient Organisations Science and Industry board (IPPOSI) and is actively involved in improving care for those affected by rare disease both in NI and ROI.
Sam Robinson
Director
My name is Sam Robinson and I'm married to Amy Jayne.  She got me involved with her work within The Rare Disease arena even before I knew I had a rare disease myself (Periventricular Nodular Heterotopia).  I still like to live life to the full, enjoying fishing, dog walks, walking on the beach in all sorts of weather, and even like my 'day job' running my own business that involves many sorts of work.  I've been involved in running a Rare Disease Day event and helping with lots of other meetings, particularly bringing awareness or rare diseases to the lower Ards and North Down.  Looking forward to new challenges in the future
Cindy McKnight
Director
My name is Cindy, I am very ordinary, I am not famous or a star. I am a wife to Barry who has spinal muscular atrophy. We have been married over forty years; he is a great advocate for charity work but now he is not so well.Our household consists of Amy Jayne, my daughter, and her husband Sam, who also has a rare disease. This home has dogs, cats, chickens, and a fish house – FUN.
I go about using a wheelchair this last fifteen years due to the wear and tear on my body, after all, it's been in use for sixty-one years. I have had cerebral palsy since birth & fibromyalgia was diagnosed recently.
It's great to grow my own fruit, vegetables, and flowers now that I am retired from the civil service. In the past, I worked on my own time for charity, helped with young children, and went back to school part-time when Amy Jayne went to her school. I love writing and talking about things.
Now I am pleased to say I am part of NI's rare disease team who have made me feel welcome. I like to think we are also stronger together as friends. I hope you come up to me and say, 'HELLO' as I feel privileged to be a part of something so forwarding thinking; stronger together and I hope our star will rise to enable us all to help one another.
Stephanie Duguez
Board Director
The first time I heard about rare disease was as a teenager, watching the French Telethon. The Telethon introduced me to neuromuscular conditions, and how genetics could help us to understand these diseases and identify therapeutic targets. Ever since then, I have wanted to study neuromuscular disorders, and work as a scientist in this field.During my career, I have worked in different institutes (LPEH Saint Etienne, France, Genethon France, CNMC Washington DC, Institute of myology France) on muscle cellular physiology, Duchenne Muscular Dystrophy and then motor neuron diseases. I recently joined the University of Ulster's Northern Ireland Centre for Stratified Medicine, where I lead the research group in neuromuscular health. Our group focuses on how the muscle communicates with other cells in the body, and its role in motor neuron disorders such as Amyotrophic Lateral Sclerosis (ALS), spinobulbar muscular atrophy (SBMA or Kennedy disease) and SMA-IV.
Having worked for the associations created by the French Telethon, I'm very much aware that rare diseases collectively are frequent, and that solidarity is a key point to fight rare diseases. I also understand the necessity to make people aware of rare conditions. I have been introduced to NIRDP through fellow researchers in the area and I'm convinced that the work done by this group is crucial to improving patient care in Northern Ireland.
William Duddy
Board Member
My interest in rare diseases stems from the experience of having a brother with the muscle wasting disease, Duchenne muscular dystrophy. This experience pushed me towards a career in science and research. After some 18 years at research institutes in Scotland, the US, and France, I recently returned home to join the University of Ulster's Northern Ireland Centre for Stratified Medicine. As part of the neuromuscular research team, I am looking for new ways to understand and treat a range of rare conditions affecting the body's ability to control and maintain its muscle mass. Our focus is on the role of muscle in motor neuron disorders such as Amyotrophic Lateral Sclerosis (ALS). I learned about the NIRDP first through fellow researchers in the area, and I think that the NIRDP's work is important because rare diseases are not rare at all when you add them all together!
Dr Helen McAneney
Dr Helen McAneney is a Lecturer in Research Methodology within the Centre for Public Health, Queen's University Belfast. Prior to this, she held a Medical Research Council Methodology Research Fellowship and was a Research Fellow applying her mathematical and methodological skills within Medicine and Public Health. Dr McAneney holds an MSci (hons) in Mathematics and a PhD in Theoretical Physics from Queen's University Belfast. Dr McAneney is particularly interested in applying her skills in trial methodology working in the areas of health service research, with a particular focus on rare disease. She is currently supervising two BSc students with projects on aspects of rare disease, two PhD research students working on the rare disease diagnosis pathway, and communication and information priorities, as well as a growing number of postdoctoral fellows and providing guidance and assistance on a further four PhD research projects within the School of Nursing and Midwifery through supervision or advisory group membership. Furthermore, Dr McAneney is working in the research area of network science, an interdisciplinary academic field where network analysis is used as a visualisation and analytic tool to examine complex inter-related data. She has applied this research approach to study the collaborative networks of stakeholders, the sharing and diffusion of information, health behaviours within social networks and evidence synthesis. She is involved in the Study Within a Trial (SWATs) and Study Within a Review (SWARs) developed by Prof Mike Clarke, within the NI Methodology Hub, is registered on the HRB-Trials Methodology Research Networks Clinical Trial Expertise Database (C-TED), a member of the Royal Statistical Society local NI group committee, and statistical editor of a Cochrane Review Group.