Upcoming Virtual Sessions
Patient Empowerment / Advocacy Session
Thursday October 21st at 11am via zoom, this session will support self-advocacy, which is the ability to speak-up for yourself and the things that are important to you.
To sign up email: info:nirdp.org.uk or join using the Zoom ID below.
Information session Via Zoom October 1st Friday 2021
A session specifically for people affected by Rare Chromosome and Gene Disorders and their families.
Unique is a small charity supporting, informing and networking with families living with a Rare Chromosome Disorders, or some Autosomal Dominant Single Gene Disorders associated with learning disability and developmental delay, among other symptoms.
To sign up email info@nirdp.org.uk or call 0770447929 to

Parents & Carers Session  with guest speaker 
Mae Murray Foundation
September  Thursday 9th at 11am
via Zoom
The session part of the Rare Disease 'Living well with…' Programme is delighted to have the Mae Murray Foundation as guest speakers.
The Mae Murray Foundation has been set up to allow people of all ages and abilities to take part in activities, experience the world and enjoy friendship together in an inclusive environment.
Mae Murray Foundation recognise one another to be of equal and inseparable value, regardless of: – physical or learning ability; medical or undiagnosed condition; age or caring role.
Mae Murray Foundation will share information on wide range of innovative all-ability projects for different age groups on offer, as well as how they work to design and implement permanent solutions in everyday environments to break down unnecessary barriers to participation.
Come along and learn about the different projects happening and how you can join.
Email: info@nirdp.org.uk to register
Social Café
August Wednesday 4th  at 11am via zoom, come along to our informal session  – an opportunity to meet others, share, connect and support. Open to all our rare disease community.
To join or for further information email: info@nirdp.org.uk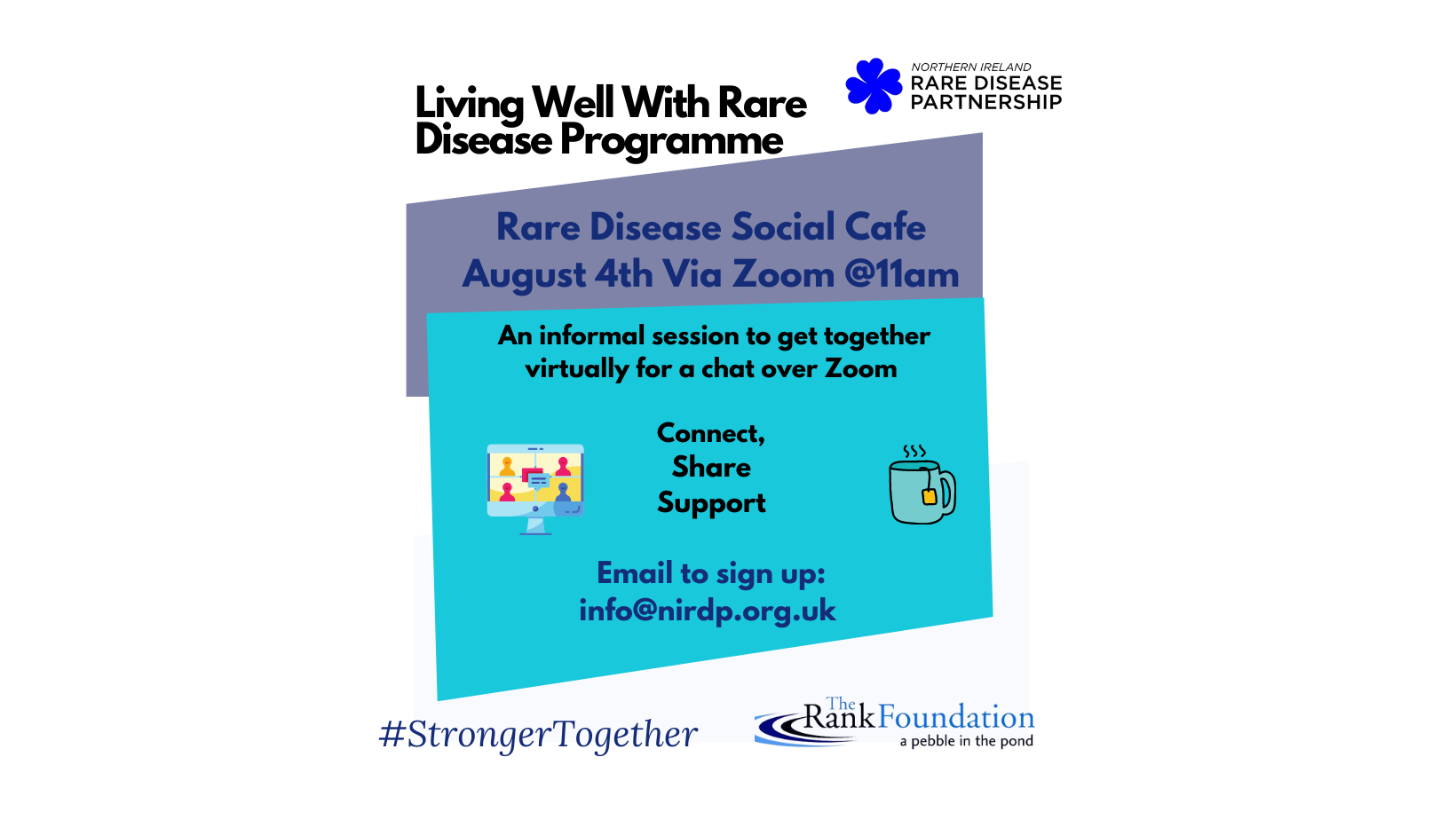 Caring for your Mental Health
Listen to Professor O'Neill share tips and techniques on how to look after your mental health.