NIRDP is delighted to be able to support members, family and supporters taking part in the London 2012 Olympic Torch relay coming to a street near you over the next few days.
Leigha Coade, who has Cystic Fibrosis, will be carrying the torch in Carrickfergus on Sunday 3 June, around 11 am. Leigha was chosen because she lives her life in such an inspirational manner, as demonstrated by her nomination: She has come through so many personal challenges this past few years and deserves to have a little light shone upon her. I know that she would love to do this and would love to play a small role in making 2012 Olympic history. She is a truly inspirational young lady who, having seen some of her friends lose their battle to this illness, carries on and faces life with strength and determination. She is my hero. Life for someone with C.F can be very lonely and Leigha knows more than anyone how that feels yet she continues to smile and pick herself up and soldier on when most people would have given up long ago. Please give her an opportunity to do this as life for us is about creating memories because one day that may be all I ever have left of her. I promise she won't let you down and I know you will give her a focus and a reason to carry on the battle to make it through another year.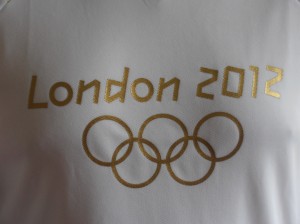 On Tuesday 5 June, the torch will be carried in Banbridge by Robbie Crouch, whose mother in law died last July from Progressive Supranuclear Palsy. Robbie was nominated because of his contribution to student and youth sports in NI for over 15 years.
Leigha, Robbie and their families are very supportive of NIRDP- now we get a chance to cheer them on!
Leigha: Sunday 3 June, Carrickfergus, 10.45am approx
Robbie: Tuesday 5 June, Banbridge, 5.45pm approx
Come prepared to make a noise, wave, and gather together to support our supporters!
NIRDP- we are stronger together.
Numbers of NIRDP t-shirts are very limited, so if you have a t-shirt/ hat/ banner from an individual rare disease group, please do bring that along. We're hoping to be very visible!