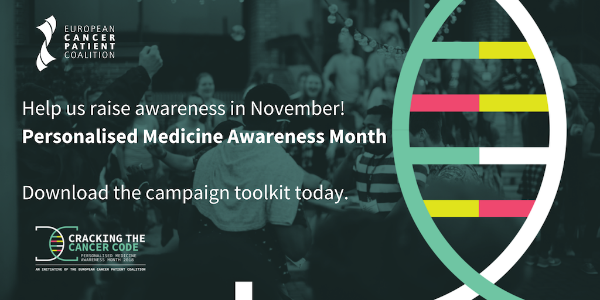 Join the European Cancer Patient Coalition (ECPC) in making personalised care more of a reality across Europe!
This November, join @cancereu advocating for greater access to molecular testing in Europe. Just one test could change a patient's treatment plan & help us in #CrackingTheCancerCode.
The ECPC has kicked-off their first ever Personalised Medicine Awareness Month 2018!
The European Cancer Patient Coalition calls on everyone to unite this November and promote the importance of awareness and access to cancer molecular testing in all European countries!
Join the ECPC today and show your support by downloading the Campaign Action Toolkit. It contains key messages, social media materials, a press release, outreach letter to policymakers and much more – to help patient organisations raise awareness and gather commitment at a national level.
To find out more about the campaign click here.
#CrackingTheCancerCode #PMAM18