WE'RE HIRING! A new exciting role:
Come join us – we're a small organisation with a big heart! 
An exciting opportunity for an enthusiastic person looking for a new challenge.
Please see below for full details within the information pack and application.  
Please contact if you have any questions: Fiona McLaughlin- secretary@nirdp.org.uk
BBC Community Life Appeal May 2021
Delighted that NIRDP will feature in the BBCNI Community Life Film supporting the  MS Society NI Appeal along side the Mae Murray Foundation.
Airing
Sun 30 May 14.05 BBC1
Mon 31 May 23.30 BBC1
Tues 1 June 13.32 BBC2
Thanks to our amazing speakers: Miriam, Andrea, AJ & team and Professor Bill Duddy.
The full film can be seen on the BBC Appeal Website here:-
https://www.bbc.co.uk/aboutthebbc/northernireland/appeals/television/ms_society
To see more from our amazing speakers view out-clips below. #TeamNIRDP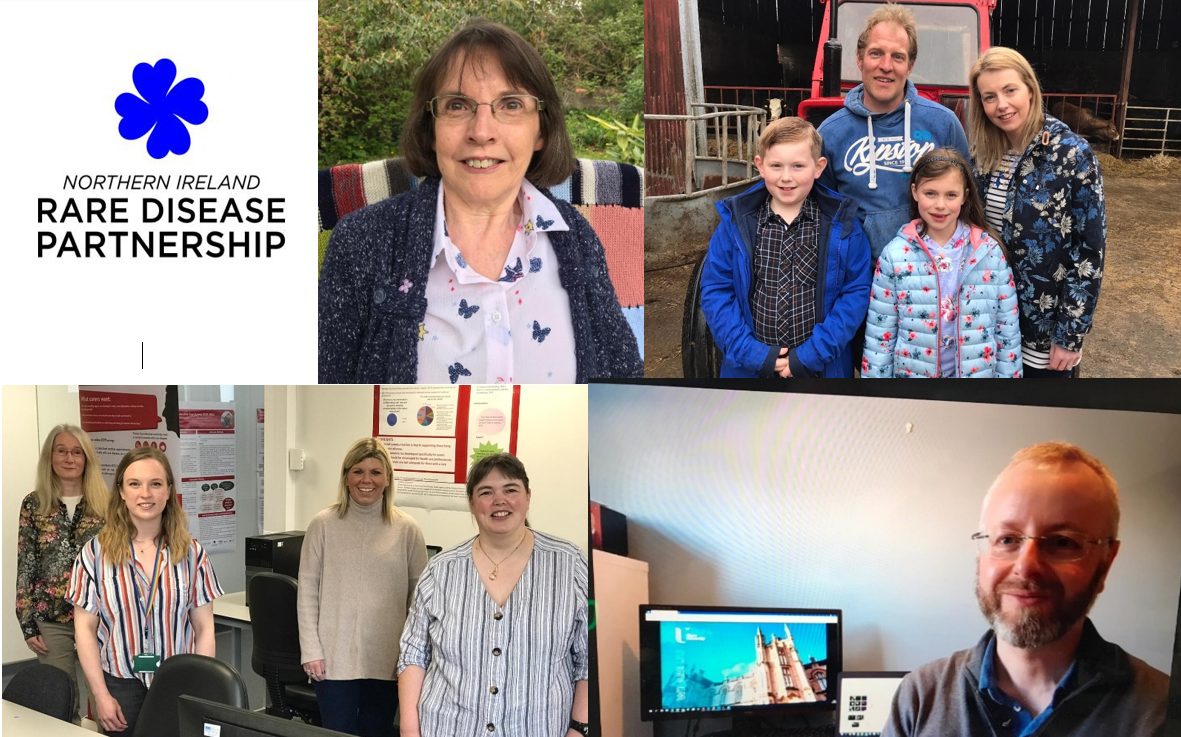 Delighted to have Miriam Martin who lives with the rare condition Syringomyelia involved. Below is an out-clip of Miriam discussing the importance of self-education and connecting to others.
Professor AJ McKnight from Queens University Belfast features and below an out-clip of Professor AJ McKnight discussing rare disease research and the challenges of living with a rare disease.
A final out-clip this time of Andrea Bellingham, who lives with a rare disease Ehlers Danlos Syndrome, discussing the importance connecting to the rare disease community through NIRDP and our virtual 'Living well with …' programme.
For information on our upcoming events click here:-  Events – Northern Ireland Rare Disease Partnership (nirdp.org.uk)
(Thanks to the Iain Webster and the team @ BBC Community Life Film for the Videos) 
Colour Flare for Rare
A huge thank you to all our creative and talented artist #Colourflareforrare.
April 2021

March 2021
Annual Report
1 April 201
9
– 31 March 20
20
The Northern Ireland Rare Disease Partnership Annual Report  1 April 2019 – 31 March 2020
is now available.
To request a digital copy email info@nirdp.org.uk
Rare Disease Day 2021
Northern Ireland Rare Disease Partnership Official Video for #RareDiseaseday 2021!
We have a full programme of excellent FREE events for our 
#RareDiseaseDayNI
 Community –
Information sessions, our New Living Well with a Rare Disease Programme & a Virtual Musical Event.
Find out more  email info@nirdp.org.uk
4th February 2021
Rare Disease Day Update 2021
The Northern Ireland Rare Disease Partnership Rare Disease update 2021: Please click the link below for a full details of all our upcoming Events:
https://mailchi.mp/4578af5b4668/rare-disease-day-update
Living with a Rare Disease in Northern Ireland?
New Stronger Together Team for Northern Ireland Rare Disease Partnership will offer vital lifeline!
Pictured: Twin Sisters Zoe Buxton and Lucy Smyth who live with Fibrodysplasia Ossificans Progressiva Syndrome (FOP)
The Northern Ireland Rare Disease Partnership (NIRDP) is a charity working to advocate, connect, educate and innovate on behalf of the '1 in 17' living with or working with a rare disease in Northern Ireland and today the charity is pleased to announce a new 'Stronger Together' team to develop their 'on the ground' support across the region.
It's easy to work out that with one in seventeen affected by a rare condition when you add us all together, we aren't so very rare.  So, if you don't have a rare condition in your family you will likely know someone, a neighbour, a friend or a colleague who does. On the rare spectrum conditions range from common rare, such as Hypermobile Ehlers Danlos Syndrome, which affects 1 in 2,000 to ultra-rare at the other end, Fibrodysplasia Ossificans Progressiva Syndrome (FOP) , which affects 1 in 2 million, with more than 7,000 other rare conditions in between.
These are strange times we are living in!  Covid19 has had a huge impact on everyone's life here but none more so than the 110,000 people who live within the rare disease community.  Covid19 is new to us all and we are all aware how vital it is to observe the Hands, Face, Space regime.  In addition, for those with a rare condition, shielding has to be taken very seriously because of the added implications and seven months in, there is not yet light at the end of the tunnel. This makes the Stronger Together Project more vital than ever.
Lucy Smyth and Zoe Buxton from Ballymena who manage life with FOPs, tell us, "Our condition is rare, affecting one in two million but as twins the statistics move to one in three billion.  We know first-hand how incredibly isolating and frustrating it is to be diagnosed with a rare condition that no one seems to have heard of or have any information on. It would have been so helpful to have had a local support team available when we were first diagnosed, and we are sure that the Stronger Together team will help people to feel less alone as they move through their rare disease journey."  Follow Zoe on Instagram @a_littlebitoflife and Lucy on @allthingsbeautifullymade.
Rhoda Walker, NIRDP Chair commented "We are so grateful to the Rank Foundation.  They understood our vision to ensure that "no-one is disadvantaged due to the rarity of the condition" and have put in place funding over several years to support this goal.  This has allowed us to welcome Edel Rogan, as our new Community Activator and Caroline McFerran, as our new Community Navigator.  Edel and Caroline join us to offer a virtual support hub, working through the maze that is rare conditions to develop and share information on support mechanisms, accessed locally, nationally and further afield."
If you are affected by, or care for someone with, a rare condition in Northern Ireland why not register with us now. Or perhaps you are a clinician, health or social care professional or researcher concerned with rare condition issues and want to know more.  Registering will keep you connected with the help and support being developed over the coming months by the Stronger Together team. Join us by visiting our website at  https://www.nirdp.org.uk/join-us/, by emailing info@NIRDP.org.uk or by calling 0770 447 6929 or 0770 447 6930.