NIRDP have always acknowledged that support from the Patient and Client Council has been vital in our development. We thank them for the time and commitment to helping us create a method of working which enables us to advocate, educate and innovate on behalf of patients and families living with rare diseases.
It's not just we who think they have done a good job. At the CIPR NI PRide Awards Dinner, the PCC were awarded a silver award for their work supporting the development of NIRDP. The PCC received two other awards also, reflecting very positively on the work of the organisation.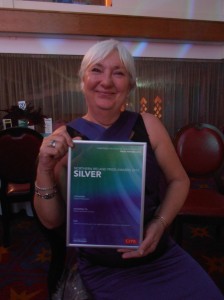 Stella Cunningham, PCC
Thanks also to the PCC for ensuring that the rare disease partnership were represented at the event. My name came out of the hat, and I enjoyed the chance to hire an outfit, visit the venue (Titanic Belfast) and chat about our work.